Storytime Sculpture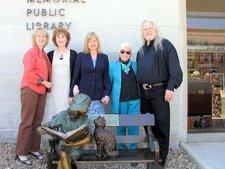 Gift from Spellerberg Family
The Spellerberg family donated the bronze sculpture, "Storytime,"
to the library in honor of their parents, David and Jeanne Spellerberg. 
The piece depicts a life-size girl seated on a bench reading to her cat.
The sculpture was created by the National Heritage Collectors Society
founded by Fostoria native, David L. Spellerberg, Jr.
Family members making the donation are the David L. Spellerberg, Jr. family,
the Marty Green family, the Jane Stroman family, and the Nanci Britenburg family.